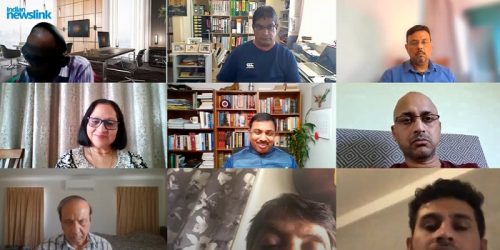 Envoy offers financial support to Indians in distress
Efforts to bring stranded Indian migrant workers back to India continue
Venkat Raman
Auckland, February 1, 2022
Indian nationals who are financially stressed by loss of employment, death in the family and other causes can be assured of support and assistance from the Indian High Commission in Wellington.
India's High Commissioner to New Zealand, Muktesh Pardeshi, has said people in need can turn to his office for prompt assistance, especially amid the current Covid-19 pandemic.
He said Indians in need of financial support should not hesitate to ask for help.
"I urge them to write to us whenever they feel the need," he said, speaking on Saturday, January 29, 2022, in an online group chat hosted by "Indians Living in Auckland Facebook Group" in association with Indian press link and the Indian High Commission.
He said financial assistance is being provided through the "Indian Community Welfare Fund", established a few years ago. He said that since April 2021, his office had provided financial support to the families of 21 Indian nationals who died in New Zealand.
"The grieving families of these people have modest economic backgrounds and cannot afford the costs of transporting the bodies to India, funeral costs and the like. We paid about $135,000 to these families," he said.
Mr Pardeshi said those in need are encouraged to contact the High Commission either directly or through a registered association serving the Indian community.
"We will try to provide support in the form of food parcels, medical supplies or funding," he said.
Tours across the country
Mr. Pardeshi met with members of the Indian community not only in Wellington and Auckland, but also in other parts of the country. In December 2021, he became the first Indian High Commissioner to visit Invercargill, where around 900 Indians live.
"These visits help me understand the needs and aspirations of our people. These also create opportunities to explain the services provided by the Indian High Commission," he said.
Migrants stranded in India
Respond to questions sent by members of the Group and readers of Indian press linkMr Pardeshi said his heart goes out to Indian migrants stranded in India.
According to available information, around 800 people are waiting to return to New Zealand from various parts of India.
"The genesis of this problem dates back to March 2020 when the New Zealand government closed its borders. Air New Zealand operated three flights to repatriate around 500 New Zealand citizens and permanent residents. Subsequently, the Indian government organized Air India flights under its "Vande Bharat" scheme. Around 3,500 people stranded in India and New Zealand benefited from these flights," he said.
According to Mr Pardeshi, the New Zealand government had assured that migrant workers and others would be gradually allowed to return.
While Prime Minister Jacinda Ardern had told us during our conversations that solutions would be forthcoming, Mr Pardeshi also had the opportunity to discuss the matter with her at the tenth annual Indian Newslink conference (which she was guest speaker) held in Auckland in August. 6, 2020, and with Chief Health Officer Dr. Ashley Bloomfield at the eleventh conference held on August 16, 2021.
"I am constantly writing to the Ministry of Foreign Affairs and Trade, the Minister of Immigration and others on this issue. The issue was also raised during a virtual meeting between India's External Affairs Minister, the Dr Subrahmanyam Jaishankar, and his New Zealand counterpart Nanaia Mahuta on March 1, 2021.
"Last year a group of stranded Indians marched to the New Zealand High Commission in India. have not been interpreted correctly, to follow the procedures through the New Zealand government channels. Ultimately, the issuance of visas and other permits is the sovereign right of the government. People have gone to court over the MIQ issue." , did he declare.
Stating that migrant Indians were part of New Zealand since many of them had been living and working here for some years, he said they should not be allowed to suffer.
"Two years is too long. In my letter to the Minister of Immigration (January 5, 2022), I said, "Our people are desperate. There is hope that as the new year dawns, the issue will be revisited. I have asked the New Zealand government to look at the matter from a humanitarian point of view. Ultimately, it is up to the government to make the decision it deems appropriate. However, I will keep trying," he said.