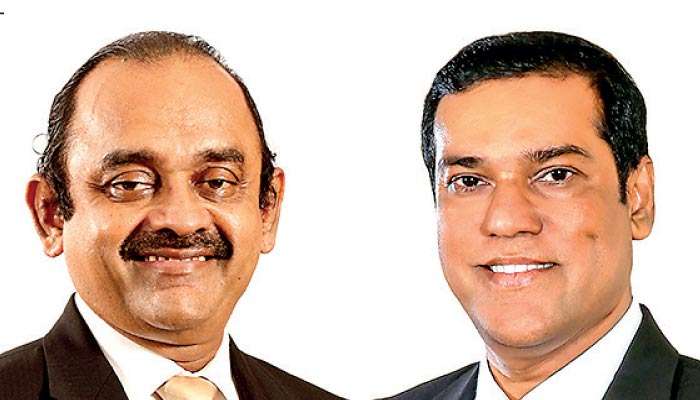 Combined financial support from People's Bank exceeds Rs. 1t in 2020 and 2021
Chairman Sujeewa Rajapakse (left) and CEO and Managing Director Ranjith Kodituwakku
---
Reports consolidated gross income of Rs. 236.8b and consolidated pre-tax profit of Rs. 37.2b

Extends Industry's Largest COVID-19 Relief

Numerous credit products launched to support government economic stimulus initiatives, including many industry firsts

Executes over Rs. 1t of digital transactions in 2021

Over 70.0% of customer transactions are now done digitally

People's Wave becomes the most downloaded app in the industry

The bank becomes the first issuer and acquirer of the Lanka Pay National Card system
---
People's Bank announced a total consolidated operating profit of Rs. 110.7 billion and total operating expenses amounting to Rs. 50.5 billion in 2021 reflecting a growth of 21.9% and 14.9 % respectively over 2020.
Consolidated profit before and after tax amounted to Rs. 37.2 billion and Rs. 28.1 billion; representing growth of 51.1% and 74.6%.
On a standalone Bank basis, the figures were Rs. 30.4 billion and Rs. 23.7 billion, respectively – up 43.2% and 67.3% from 2020.
Revenue growth was driven primarily by net interest income, which represented nearly 90.0% of total operating income and increased 30.2% in line with the Bank's growth in its credit and investment, while its commission income increased by 23.4% to Rs. 9 billion; reflecting the Bank's efforts to improve its sources of unfunded revenue.
Expenditure growth is mainly related to direct business growth. Compared to 2019, the Bank's cost/income ratio improved significantly to 51.1% in 2021 from 54.3% in 2020 and 61.8% in 2019. the Bank increased, reflecting the macroeconomic tensions seen across the sector.
During the year, the Bank invested in rural development, supported small and medium-sized enterprises (SMEs), and encouraged women's entrepreneurship. By the end of 2021, it stretched Rs. 63 billion to SMEs through various lending initiatives; which included nearly Rs. 1.9 billion through its own program to help revive businesses in agriculture, information technology, logistics, manufacturing, tea and tourism.
In collaboration with the Small Holder Agri-Business Partnership (SAP), has introduced a low interest credit scheme for 5,000 farmers with an initial provision of Rs. 1 billion. To support local fertilizer production, the Bank has introduced Sarabhoomi loan scheme while to promote female entrepreneurship, it has extended Rs. 533.5 million. The Bank has also introduced additional loan programs to support self-employment in agricultural and artisanal spaces.
To support the country's investment in information technology, the Bank has committed Rs. 6 billion of which Rs. 750 million has already been drawn down.
From the perspective of personal loans, in its efforts to uplift the housing and construction sector, the Bank has extended more than 10,000 home loan facilities amounting to more than Rs. 185.8 billion at the end of 2021.
Moreover, by the end of 2021, it had disbursed more than Rs. 5.5 billion to disabled retired officers of the armed forces and more than Rs. 68.5 billion to government retirees.
To help artists and related professionals, the Bank has disbursed over Rs. 550 million, while to help university students and teachers, the Bank has devised laptop loan schemes through which a total of Rs. 350.5 million were extended throughout the year. Medical students at state universities have also been offered personal loan facilities.
The Bank's consolidated lending portfolio increased by 12.1% to Rs. 1,990 billion at the end of 2021. The Bank's Phase 3 lending however was at 4.3% (2020: 4.5%) .
In addition, the Bank has committed about Rs. 453 billion in treasury bill conversions during the said two-year period. Growth in its consolidated deposits was 12.1% to Rs. 2,168.7 billion.
Total consolidated taxes and dividends paid to the Government of Sri Lanka stood at Rs. 20.4 billion in 2021, a growth of 25.1% from Rs. 16.3 billion in 2020.
Its consolidated Tier I and Total capital adequacy was 13.4% and 17.9%, respectively, at end-2021 (end-2020: 10.7% and 15.6%). On an individual Bank basis, they were 12.6% and 17.8% respectively (2020: 9.5% and 15.5%); either being not all-time institutional highs, but also among the highest in the industry. All other regulatory ratios were all maintained well above the minimum requirement.
Banque Populaire President Sujeewa Rajapakse said: "We are very pleased with the Bank's results, especially since they were achieved under unprecedented circumstances. As a service provider, the past two years have put our promise and ability to deliver to the ultimate test.
As a national institution, we do not measure our success by typical turnover or net income, but by our national added value – our results both quantitatively and qualitatively attesting to our resilience in these difficult times and our overall performance including, more specifically, our productivity and efficiency.
All that said, our work is far from done. Not content with any of our successes, we remain focused and fully committed to the government's economic recovery plan. Aware of the challenges awaiting us, we look to the future with great optimism. Together we can."
"On behalf of the Board of Directors, I take this opportunity to thank His Excellency the President, the Honorable Prime Minister and the Honorable Minister of Finance for their leadership in these difficult times. I also express my gratitude to the Governor of the Central Bank, the Secretary to the President and the Secretary to the Treasury for their support and guidance on all matters of a related nature.
Above all, to all of our current and former customers and employees – thank you. The Bank's success is undoubtedly yours. Your continued trust in the institution has not only enabled us to serve the country in an unprecedented way, but has also helped us stand out in the banking and financial services space," added Rajapakse.
CEO and Managing Director Ranjith Kodituwakku said, "If we thought 2020 was a challenge, 2021 was on a different level. Operationally, it continued to test our commitment, our discipline, our determination, our strength and, above all, our technological capabilities. On the contrary, the pandemic has accelerated everything contactless, everything remote and everything digital.
So we used 2021 to focus on our digital customer onboarding efforts, introduce new solutions to help our customers, expand our overall digital footprint, improve our brand value and forge new relationships, all of which ultimately led and will continue to lead to improved performance and delivery. Continuously improving our productivity and profitability is a key aspect of our goal for the future, as well as completing several measures already underway to improve the security and stability of the institution.
He continued: "2022 will be a defining year; we await it with determination, hope and optimism. I take this opportunity to thank all of our customers and other stakeholders, including our service providers, for the trust you place in us. We look forward to your continued support."
With a view to bringing the benefits of digitalization to the entire country, People's Bank embarked on a pioneering digital transformation journey in 2015. Since then, a multitude of diverse digital banking solutions have been launched that offer a greater convenience, speed and efficiency to customers at every stage of their interactions with the Bank.
People's Bank is also the first and only bank in Sri Lanka to be accredited with ISO/IEC 27001:2013 certification, the highest international accreditation for information protection and security. Additionally, the People's Bank prides itself on being at the forefront of facilitating the penetration of digital financial services in the country's rural hinterland and has recorded unparalleled levels of success in supporting the evolution of the nation towards a digital society.